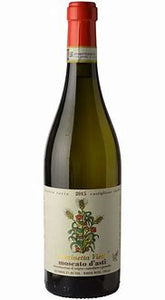 Pale sunshine yellow color and slight frizzante, this Moscato d'Asti has intense aromas of peaches, rose petals and ginger. On the palate it is delicately sweet and sparkling with modest acidity, good balance, good complexity and a finish of fresh apricots.
Perfect accompaniment to Pan-Asian cuisine and lobster as well as pastry, fruit based and creamy desserts and blue cheeses. Also excellent as an aperitif.
Crisp, sweet, and refreshing!